HOW

WE DO IT.
We're giving you the recipe to the secret sauce (even though Mama said not too)...
HOW

WE DO IT.
We're giving you the recipe to the secret sauce (even though Mama said not too)...
"

Sharing is caring which is why we want to lift the lid on

how we do

what we do.

"
We're kinda

buzzed

and it's

all because...
Wellmeadow does it like nobody does...
A little hat-tip to the mid-nineties Rapper, Montell Jordan, and then let's get back on topic. If you're like most businesses, you've got a load of stuff you need to get done for sales and marketing. We'll show you how to focus your efforts to drive results. Starting with a bit of basic inbound marketing theory, we'll graduate to our Growth Generator process. Let's do it.
Focus on Flywheels not funnels
Does your business organises sales and marketing activities based on a sales funnel? If the answer is yes, you may be losing potential sales as prospects drop out of the funnel.

Let us introduce the flywheel. An INBOUND MARKETING concept that shows a cyclical nature of driving growth. You need to be able to ATTRACT visitors, build trust with them so that they ENGAGE with you whilst they get ready to buy. In many B2B cases, the buying process can be months (even years) so staying relevant and adding value to prospects is critical. When prospects finally become customers, you want to DELIGHT them. They then become your advocates and spread the word, helping you attract more visitors. Rinse and repeat. Prioritise Activities
The GROWTH GENERATOR is our attempt to combine the INBOUND FLYWHEEL concept (Attract, Engage, Delight) with elements of the BUYER'S JOURNEY (see below), and marketing and sales activities. Simple right?!
Well, it turns out it takes a reasonable amount of thinking, coffee, and dark winter evenings to combine all these elements.
The Growth Generator will continue to evolve as we learn more. Meanwhile, it proving a useful tool to focus the marketing efforts of our clients.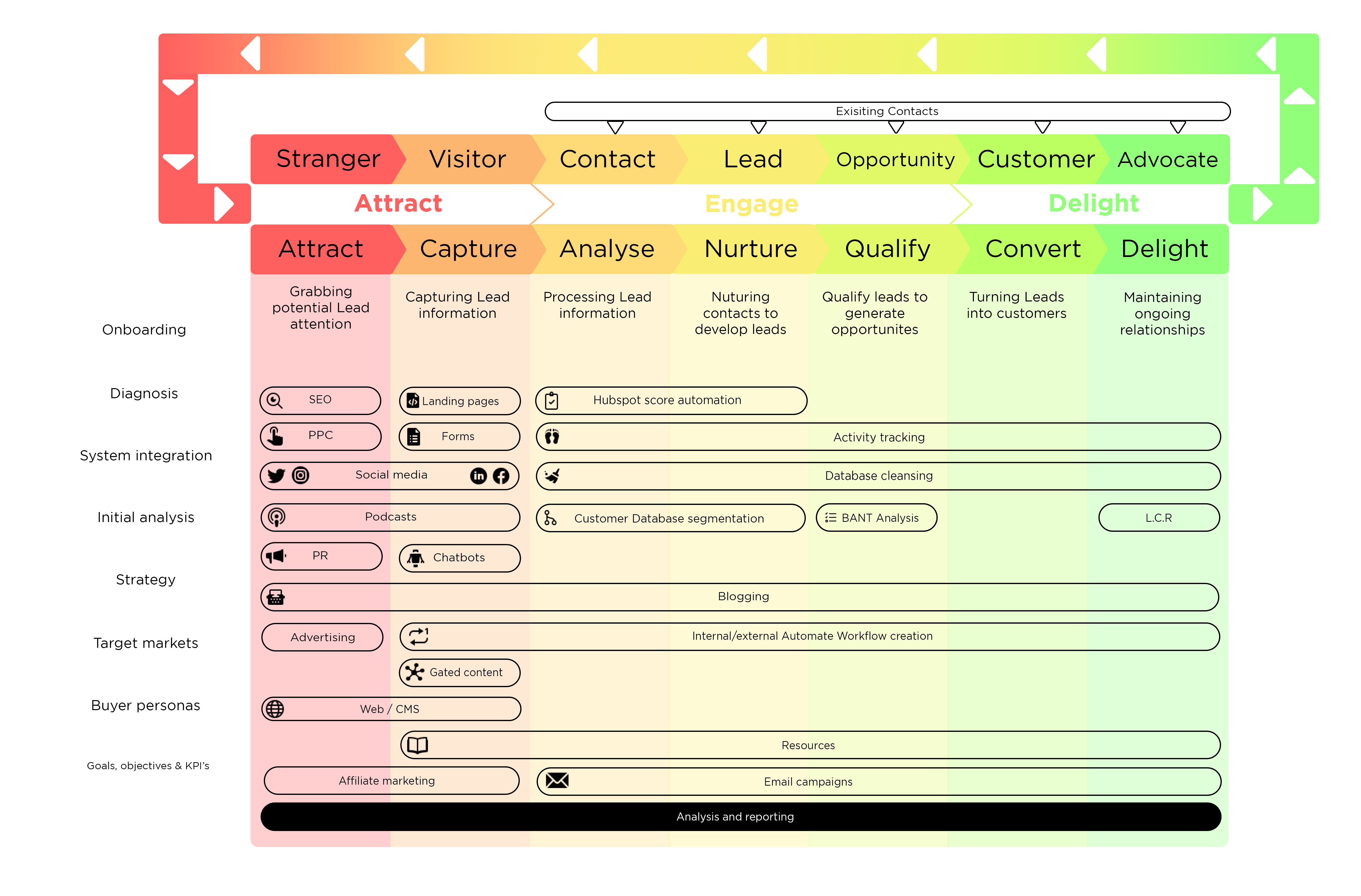 Managing the
Buyer Journey
A customer usually doesn't materialise out of thin air. There is a process by which the AWARENESS of the need for a solution increases and they start to research options. Once a buyer has done their homework, they will CONSIDER the options, pros/cons, etc. Finally, they enter the DECISION stage where they make a choice to (hopefully) buy from you.
At each stage of the buyer's journey, we help you to develop relevant, engaging content that helps turn strangers at the awareness stage into engaged prospects who make decisions to become customers.
Click on one of the stages below to find out more about how we do this...
Here's the
Growth Generator

in all its glory

We know you want a closer look at what we're going on about. At each stage, from attracting strangers to delighting advocates, there's a load of stuff that needs to get done. You can click on each part of the pretty picture to find out more about what you're interested in. Alternatively, keep on scrolling to learn about automated marketing using HubSpot.
You can select any topic below to find out more...
HubSpot: The market-leading CRM
We only want to work with the best technology. Hubspot's CRM (customer relationship management) platform is easy-to-use yet powerful. The CRM is the core on which the rest of HubSpot's functionality draws on. You can also integrate HubSpot into thousands of apps to supercharge your growth.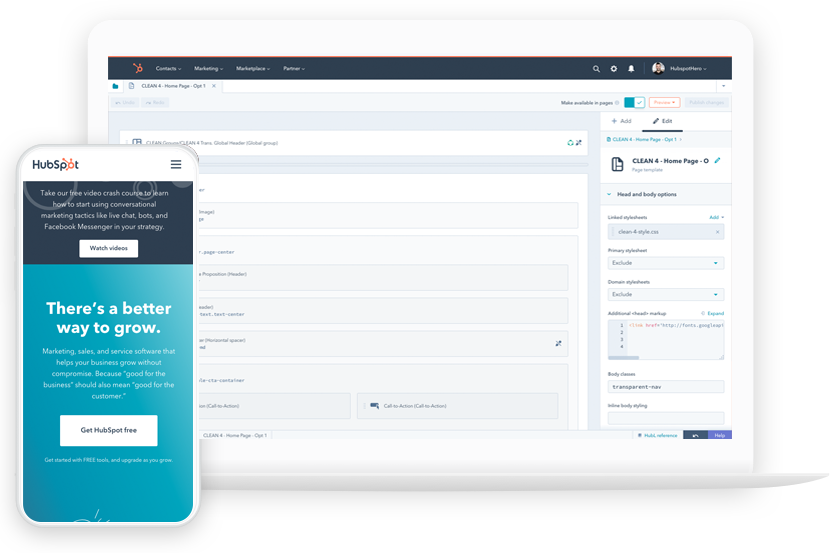 Manage your website CMS
HubSpot's CMS (content management system) is awesome! Let's get the boring (yet necessary) stuff out of the way. There's no plugins, they mange all the security elements, plus loads of other technical mumbo jumbo. The cool thing is that your website sits on top of your CRM. This means that you can easily attribute website activity to lead generation. You can also make you website personal to specific users, which I think you'd agree , is pretty cool!
Increase your marketing impact
HubSpot's marketing tools are some of the best in the business. From basic lead capture through easy-to-build forms to complex lead nurturing automated workflows, it's got you covered. By having all of your marketing tools in one place (content, forms, CTAs, landing pages, blogs, PPC, SEO, social - it's a long list!), you cut out tonnes of hassle. The time saved can be spent focussing on growing your business. Being able to attribute leads to deals automatically means you also know what marketing is giving you bang for your bucks.
Convert more deals to sales.
HubSpot's sales tools help yours sales team to manage more leads and close more deals. Automation of sales pipeline admin (like follow up emails, task reminders, updating deal stages) can all be automated to help make life easier for your sales team. With all the free time they will now have, they can use it to deepen relationships with customers and prospects! There are loads of other tools that can be used to increase the efficiency of your sales team, reduce sales cycle times, and close more deals.