Our Approach

to business growth
We're giving you the recipe to the secret sauce (even though Mama said not too)...
Our Approach
A little taster of what to expect on this page. There's a tonne of info, downloadable ebooks, and video content for you to consume at your leisure.
Our Growth framework
A HIGH-LEVEL OVERVIEW
A framework or a mental map can help direct your thinking about business growth. It's more than likely that you'll have to prioritise some activities over others. It can also help you identify where you need to focus your efforts.
Whether you work with us on a Consult, Grow, or Transform basis, we would apply this way of thinking to your business.
If you're serious about growth you need to have access to a broad range of thinking and skills. As you scale, they'll be different challenges. You start out wanting more leads, but then as you get them and grow you may need to recruit. You've then got to manage and measure your team, decide on a techstack, plus keep the leads coming in. Wellmeadow have expertise in each are of the framework to help guide your growth.
ACTIVELY FORMING CONNECTED IDEAS.
The world we're living in is changing rapidly. What is working today may not be a solution tomorrow. In our experience, businesses who have taken a step back to look at their environment, look at the future, and look at themselves, in an honest and robust way, set themselves up well for future growth.

We work with our clients to help them create a vision. Without a clear vision of where are you want to be it is very hard to align your sales and marketing efforts. You have to have a clear picture of where you want to be in 5-10 years. We can then start thinking with you about the team you would need to help drive growth, the technology stack/infrastructure that can help accelerate the growth, the finance to fund the growth. Suffice to say, there's plenty to think about!
DESIGNING THE BUILDING BLOCKS OF GROWTH.
Sometimes, people who are looking for growth want to jump straight in and start doing things. On the one hand this is great, as Aristotle once said "what we must learn to do we must learn by doing" - and who are we to argue with Aristotle! It can be helpful to run some experiments or mini campaigns to get some data upfront. However, as someone else famously said "if you fail to plan, you plan to fail."
The planning phase of the process means that activities (of which there are many) can be thought through and aligned. This may take a bit of time at the start but it is time well spent if it means that the infrastructure for growth is well thought through. For example, you could just crack on and use HubSpot out of the box and start adding contacts into your CRM. This may work well for a few weeks. However, you may later wish that you had spent a bit of time planning. Things like setting up your sales pipeline, marketing automation workflows, business processes mapping, don't just fall out of the sky. Taking a beat to plan is time well spent and can reap dividends (both metaphorical and literal).
LIGHTS, CAMERA, ACTION. GETTING STUFF DONE.
This is the part that most business owners or leaders responsible for growth want to get on with. We get it. Who doesn't want to start to see new leads coming in, new sales, and the anticipated growth start to be realised.
Again, to make this scalable (which is to goal right?), activity needs to be thought through for each stage of the customer journey. If you want to see how we do it check out our Growth Generator. To attract strangers to your website you will most likely need to do activities such as PPC, social media, SEO, and blogs. You can raise general awareness of your brand through podcasts YouTube, and the list goes on. However, once strangers are on your website what do you do with them? Not everybody is going to want to buy right away so how do you capture leads and nurture them through the customer journey. Again, there is a tonne of activity that is required here. This is why we recommend to all of our high-growth clients that they adopt a solution such as HubSpot to help them manage all of this activity. Let the software do the heavy lifting and automate processes so that you can focus on adding value to your customers.
ASSESSMENT WITH THE DESIRE TO DRIVE CHANGE.
Once you have thought through where you want to get to, built an amazing plan, and done a whole load of marketing, what do you do now (other than grab a beer!). You need to review the data to work out what is going on, what's working, what isn't, who's working, who isn't.
This is where having the data really comes into its own. HubSpot helps you understand which PPC or social post lead someone to the website. You can then track them through their customer journey, seeing which website pages or assets they interact with, track the deals, and eventually allocate revenue to marketing efforts. You now have insights into which part of your marketing efforts are making an impact on the top line. Finally we can answer the questions and surrounding the effectiveness of our marketing spend. But we want to take it further. Using machine learning and AI, we are helping clients understand their sales pipeline at a much deeper level. Reviewing this data with the sales managers can help them drive the right types of behaviour to maximise the conversion of leads to customers.
Our Growth Generator
GETTING STUFF DONE
The GROWTH GENERATOR is our attempt to combine the INBOUND FLYWHEEL concept (Attract, Engage, Delight) with elements of the BUYER'S JOURNEY (see below), and marketing and sales activities. It's the "DO" bit of our growth framework.
It can help you figure out what types of activities to focus on depending on what you need. What you need will be unique to your business and it's situation. If you're in a mature market sector and know all the main players, you may want to nurture existing contacts. If you need to attract new leads, you might want to come up with some interesting creatives and then offer valuable content in exchange for an email address.
The GROWTH GENERATOR can help you to prioritise and focus your efforts.
INTRO TO INBOUND MARKETING
CREATE CONTENT THAT ADDS VALUE
It has been said that "Attention" is one of the most highly prized commodities in today's high-paced life. According to a Microsoft study, the average attention span in 2020 is eight seconds, down from 12 seconds in 2000. The ever increasing adoption of smart phones and living life online only serves to continue to shorten our attention spans.
This creates a challenge for today's marketers. With less time to get your message across to visitors or prospects, how do you ensure you're saying the right things to the right people?
Inbound marketing can change the way you think about your growth strategy. By producing content that adds value to your target customers, they are more likely to find it and engage with it. Higher engagement leads to a greater probability of converting prospects to happy customers. It can take time, and there's no short cuts, but as they say, good things come to those who wait (and hustle!). FOCUS ON FLYWHEELS NOT FUNNELS
Does your business organise sales and marketing activities based on a sales funnel? If the answer is yes, you may be losing potential sales as prospects drop out of the funnel.

Let us introduce the flywheel. An INBOUND MARKETING concept that shows a cyclical nature of driving growth. You need to be able to ATTRACT visitors, build trust with them so that they ENGAGE with you whilst they get ready to buy. In many B2B cases, the buying process can be months (even years) so staying relevant and adding value to prospects is critical. When prospects finally become customers, you want to DELIGHT them. They then become your advocates and spread the word, helping you attract more visitors. Rinse and repeat.
BUILD A BUYER PERSONA
A simple yet extremely important foundational piece to all of your marketing and sales efforts, this one pager break down is a semi-fictional representation of the type of customer you currently or wish to attract, allowing for a deeper understand of one or multiple customer groups.

Buyer personas should be used for every part of your marketing and sales efforts, as it dictates the approach and tone you speak to them and what needs you're going to fill from what angle. It should be a constantly evolving document as you get to understand more about your customers and more about how best to serve them.

You can have as many buyer personas as you deem necessary but we strongly advice keeping this number to a handful, so that you don't complicate your efforts by trying to make it serve to many different types of people. MAP OUT YOUR BUYER'S JOURNEY
A customer usually doesn't materialise out of thin air. There is a process by which the AWARENESS of the need for a solution increases and they start to research options. Once a buyer has done their homework, they will CONSIDER the options, pros/cons, etc. Finally, they enter the DECISION stage where they make a choice to (hopefully) buy from you.
At each stage of the buyer's journey, we help you to develop relevant, engaging content that helps turn strangers at the awareness stage into engaged prospects who make decisions to become customers.
CREATING CONTENT
DIFFERENT STAGES OF THE BUYER'S JOURNEY NEED DIFFERENT CONTENT
AWARENESS CONTENT
Your customers might have a problem or opportunity that you're not quite sure what to do with. They start to do research to get a better understanding of the situation, and define it. Ebooks, reports, explainer videos, editorial content , are all useful tools at this stage.
CONSIDERATION CONTENT
Now they've defined their problem or opportunity, they can start to consider options. They start to do research and analyse the various ways they can solve the problem/opportunity. At this point, things like comparison tables, podcasts, videos, webinars can help.
DECISION CONTENT
They've now decided on a given approach. They start a process of compiling lists of options. They then go through a few rounds of refining the list until they reach a decision to purchase. Here you want to use things like awards, testimonials, demos, business presentations, to get the decision over the line.
Check out some of our content below or take a look at our case studies.

Click me to see cool content
Content designed to attract attention and awareness. Read more about this content here.

Click me to see cool content.
Sometimes your content can be a bit more creative! To learn more about this content click here.

Click me to see cool content
Awareness Content - click here.
Consideration Content - click here.
Decision Content - click here.
DATA DRIVEN GROWTH
TIME TO TALK TECHNOLOGY
Let's recap where we've got to. So far, you've seen a framework that can be used to think about growth more systematically. We've looked at the Growth Generator to see what type of content can be used to attract, engage, nurture, and delight prospects and customers.
We then took a whistle-stop tour of inbound marketing (download the ebook for more info) covering off things like the buyer personas and the buyer journey. We then had a brief look at the types of content we can help you create.
Now, we're getting to the technology. You want to know if your creative efforts are working. In fact it's more like you need to know - otherwise how do you know what to focus your efforts on. That's why we've got to look at the marketing data and understand the story it's telling us.
WE'RE NOT JUST A COLOURING IN DEPARTMENT...
Once you have thought through where you want to get to, designed an amazing plan, and done a whole load of marketing, what do you do now? You need to review the data to work out what is going on, what's working, what isn't, who's working, and who isn't.
This is where having data really comes into its own. The quality of your data is likely going to depend on how well you've designed your marketing experiments. We can work with you to design, plan, and execute marketing campaigns so that you get the data you need.
Whatever data you collect, you're going to want to have some form of feedback mechanism. This will allow to take the learning from the data you collect and turn it into action-orientated decisions. When the data informs your thinking, you'll have a clearer growth strategy, and greater focus on the stuff you need to do.
DESIGNING THE RIGHT TECH STACK
Every business is different so it's important that you get the right technology stack for your business. Whether you're just looking to change your website platform or planning on a digital transformation project, the correct tech stack is crucial for scaleable growth. Hubspot
WE'RE PROUD TO BE A HUBSPOT PARTNER.
When we were reviewing CRMs and marketing automation software, HubSpot came out a clear winner. It's a powerful, easy-to-use piece of software that any business serious about growth should consider using.
HubSpot allows you to manage your contacts, automate your marketing activities, manage your deal pipeline, and facilitate a seamless customer service journey. This all combines to help improve your lead generation and sales conversion opportunities.
Completely customisable to your needs with variety of packages and price points, HubSpot can be with you from the very start and scale up with you as you grow.
Sound interesting? Why not get in contact with us and find out what we can do for you?

MARKETING HUB
Centralising your marketing efforts into one place, with visibility and a myriad of powerful tools, such as automated workflows, to help build effective campaigns and create long lasting and loyal customer relationships through unrivalled customer experiences.

SALES HUB
A connected, effective sales platform. Simplifying efforts and freeing up time for sales people for create more opportunities through developing relationship. The sales hub also works in tandem with the other hubspot products so that leads and opportunities are easily identifiable.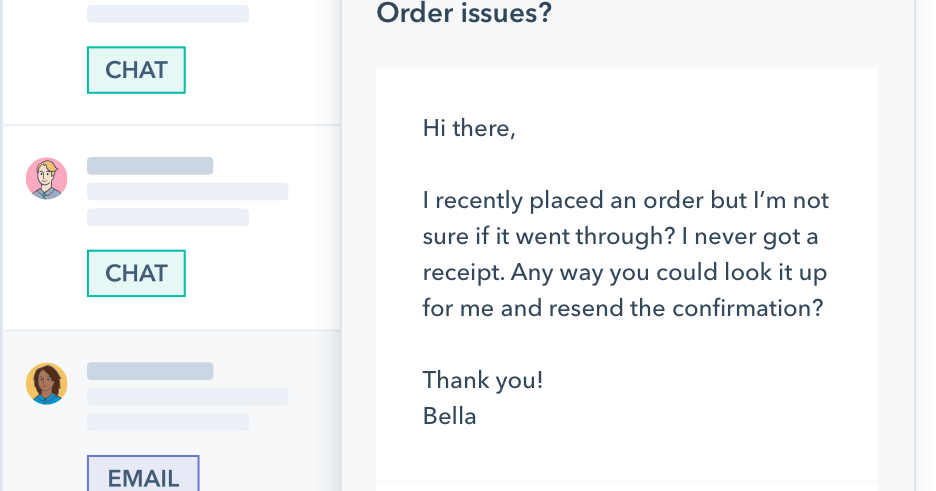 SERVICE HUB
Provide World class customer service, easily with HubSpot's service hub. Connected to all your platforms, website, email and social media, your agents will be able to provide an unrivalled customer experience armed with the all the information form any HubSpot product, you can view the whole journey a customer has taken up until the conversation is started.

OPERATIONS HUB
Data is the most useful tool in the modern information era, the HubSpot Operations hub allows you to connect all of your platforms together create a collaborative, conjoined ecosystem, on which you can build your sales and marketing efforts. The HubSpot platform is completely customisable to your businesses needs with the operations hub as the back of house power station.

CMS HUB
Build and manage a stunning website utilising HubSpot's no code CMS platform. You don't need experience in web design or computer programming, the drag and drop block building system means you can create exactly what your business needs in seconds and have it trackable and connected to the HubSpot CRM, supercharging your efforts.
I was sceptical around the Santa piece but it was humorous and very clever. I have had numerous compliments and only positive feedback from our customers. thank you, and well done look forward to more of this type of content.
Having worked with Wellmeadow for just a few months, we were very quickly impressed with their ability to rapidly understand our needs, market requirements and positioning our brand in a highly competitive market.
Typically personable whilst still professional, the Wellmeadow team have taken us through the entire HubSpot onboarding process with ease to give us the sales and marketing platform we need as we strive for future success.
We're passionate about helping you grow
!
We love getting to know businesses that have ambitious growth plans. Working with high-energy, passionate people who care about what they do is what gets us out of bed is the morning.
Our approach is based on over 15 years of helping businesses at board-level. No jargon, no nonsense is how we roll. If this sounds interesting, let's talk.